It is a globally accepted norm that the future of work depends on the credibility of your certification and skill set.

The world economic forum (WEF) research stated that by 2025, 97 million new IT jobs would have been created and 85 million jobs would be displaced as the future of work shifts towards information technology. The semi-illiterates of tomorrow are those with university degrees and no IT skills. The most preferred job candidates will be those that choose to reskill and upskill to fit into the technology inclined business world.

Why not Skill Up with New Horizons & enroll today into any of our professionally selected BIG 6 courses that would get you ready for the job to become an asset & qualify for any of the 97 million available international ICT jobs.
CERTIFIED BUSINESS ANALYSIS PROFESSIONAL
This course provides you with a clear and detailed understanding of the concepts covered within the CBAP® and CCBA® exams. You will gain valuable tips and techniques to help prepare, study, and assess your personal readiness. In addition, you will earn valuable professional development hours toward meeting the exam criteria.
MICROSOFT AZURE ADMINISTRATION
This course teaches IT Professionals how to manage their Azure subscriptions, secure identities, administer the infrastructure, configure virtual networking, connect Azure and on-premises sites, manage network traffic, implement storage solutions, create and scale virtual machines, implement web apps and containers, back up and share data, and monitor your solution.
CERTIFIED ETHICAL HACKING V-11
The Certified Ethical Hacking (CEH) is a core training program for an information security professional, also referred to as a white-hat hacker, who systematically attempts to inspect network infrastructure with the consent of its owner to find security vulnerabilities which a malicious hacker could potentially exploit.
This data analytics is designed to offer a solid foundation for working with various types of data, data visualization for decision making, and data analytics in different sectors. This program is ideal for anyone looking to become a data analyst or analytics manager. Learn data analytics and data science methodologies through this program and drive better business decisions.
There is no formal requirement for attending this course, although it would be beneficial to have some understanding of project management.
Participants will be given access to a PRINCE2® pre-course video module two weeks prior to the start of the class (subject to booking conditions).
It is important that participants complete the pre-course work prior to attending as the content covers items essential to the successful running of the program. It will also enhance the learning experience for all participants.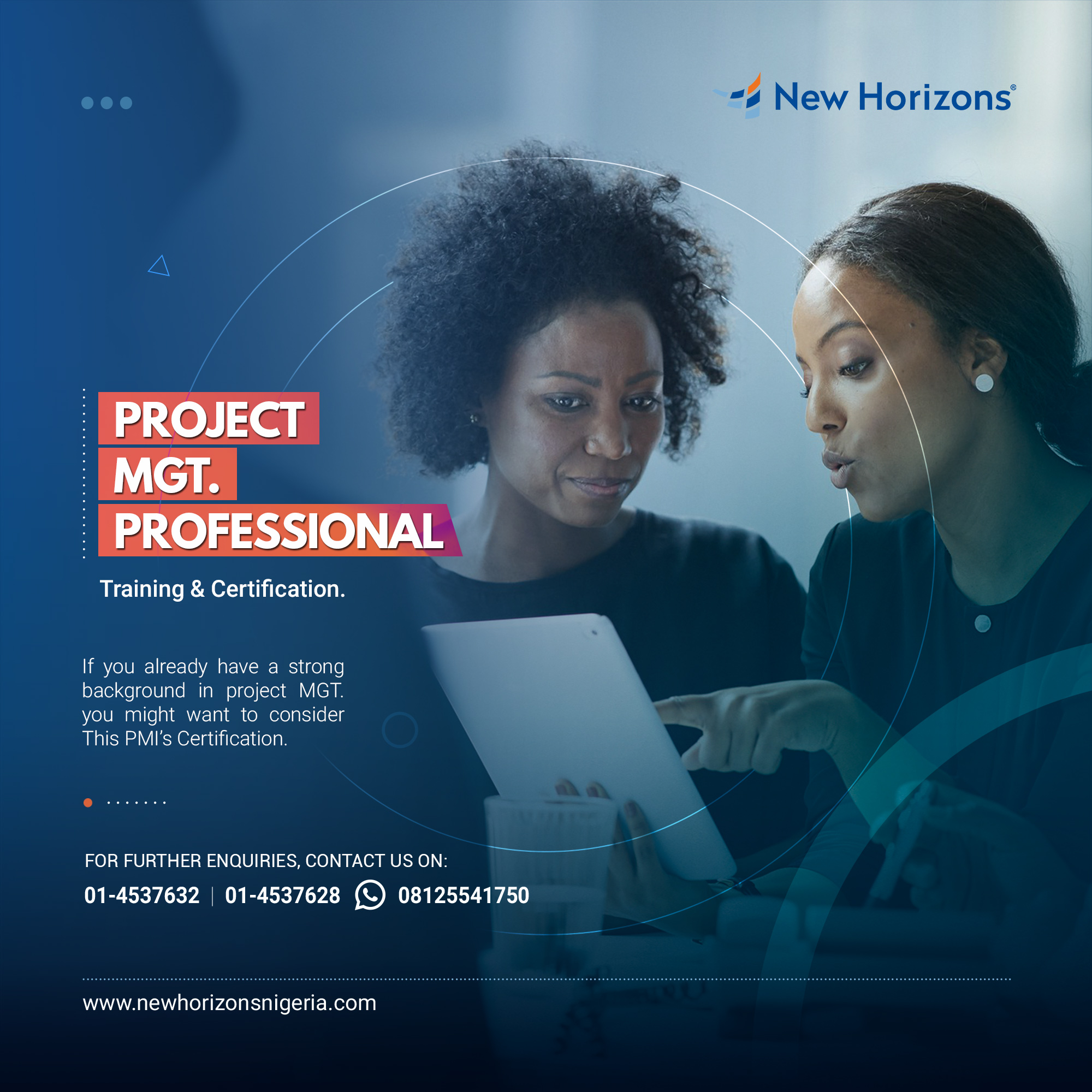 PROJECT MANAGEMENT PROFESSIONAL
If you are taking this course, you probably have some professional exposure to the duties of a project manager, or you may be considering embarking on a career in professional project management. Your ability as a project manager to demonstrate best practices in project management—both on the job and through professional certification—is becoming the standard to compete in today's fast-paced and highly technical workplace. In this course, you will apply the generally recognized practices of project management acknowledged by the Project Management Institute (PMI)® to successfully manage projects
Imanche Victor Adeniyi
ATC Nigeria
I am satisfied with the training offered here and the instructor. I look forward to having another training session with New Horizons.
The Excel training was well laid out and the facilitator was very versed, he used multiple scenarios to explain the concept. I am very glad to have chosen New Horizons for this training.
The training is very excellent and it will help me to identify and resolve some database problems.
The course was helpful, interactive to know the fitment of business with IT service.
The course was well taught and well understood.
Learn how to get the most of the tax system for both corporate and individual income.